Regular price
Sale price
$1,099.00
Linky Foldable Electric Longboard
---
Regular price
Sale price
$1,099.00
Linky Foldable Electric Longboard
---
Linky: The Foldable Electric Longboard with App and remote
Folding
Linky 32inch Electrical skateboard for adults designed in Italy for a unique dynamic performance. The patented folding mechanism makes it fast and easy to extend and compress Linky and put it in the backpack or bag.
Light and sturdy:
With a weight of 12.1 pounds Linky is amongst the lightest of the electric longboard market. The structure is made of high strength polymers from the automotive industry instead of heavier metal parts.
Powerful motor:
The motor is a brushless permanent magnet that can go up 12% hills carrying a 220lbs load of adult rider. It reaches a top speed of 19 mph. The motor is protected by a cover to ensure safety.
Battery:
Linky's innovative electrics and long life lithium battery come from our experience as automotive industry engineers. Linky longboard has a range of 12 miles and charges to 85% of capacity in just 30 minutes using the FAST CHARGER
100% after sale warranty:
Each Linky Longboard with a 1-Year manufacturer warranty against mechanical defects.
Air safe:
Safety & Air transport: our power system has a BMS (Battery Management Solution) that regulates the battery pack charge and discharge
Linky: The Foldable Electric Longboard with App and remote
Rocket your commute, buzz around the world & be where it counts. Linky is freedom in your bag.
Discover new places in total liberty! Linky is portable, compact and air-travel safe.

Designed in Italy for a unique dynamic performance. Foldable, and with a high-performance frame; that's why Linky is unique.
Constructed with Carbon fiber and 100% bamboo for a sleek, responsive ride. Advanced polymers, carefully shaped by our engineers, allow lightness and flexibility while cruising over bumpy roads.

Over $250,000 funded on Indiegogo!!! 

Linky isn't just about power; it's about choice, giving riders a fuller experience. Ready for an adrenaline rush? just hit the sport mode and have fun. Want to relax? Cruise mode is perfect for enjoying yourself while surfing on the road. For the tireless city explorers, we even made an eco mode to save on battery life, so you will soon forget the last time you charged your linky.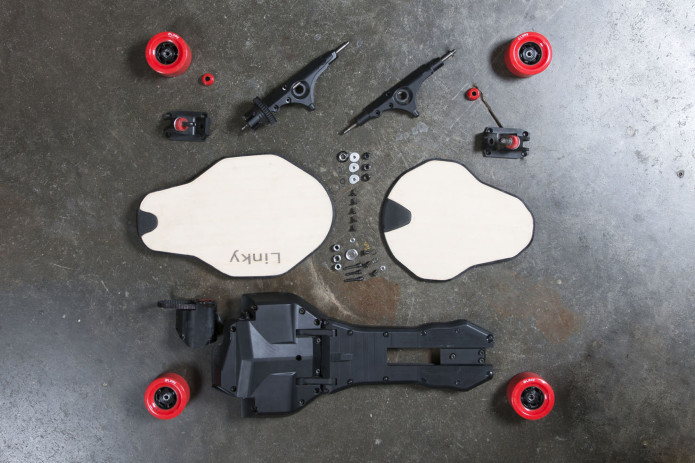 Foldable and Light
The patented folding mechanism* makes it fast and easy to extend and compress Linky and put it in the backpack or bag. With weight of 12.1 pounds it's amongst the lightest of the electric longboard on the market.


*WIPO (PCT) Patent WO2016/207062A1
Remote
| | |
| --- | --- |
|   | Linky is operated with a remote control that allows you to gradually increase your speed, to break, and to set riding mode. The remote also has a battery indicator and connects by Bluetooth to the board. |
Air-Travel Friendly
 
We have calibrated the battery to correspond to the current IATA regulation regarding the transportation of lithium batteries on airplanes.

The battery may also be removed for transportation thanks to the modular structure of the battery compartment
Mobile App 
| | |
| --- | --- |
| | We've developed an IOS app that will read, store and allow you to share data from the board, as well as to set riding modes. |
Powerful And Portable
The motor is a brushless permanent magnet that can go up 10% hills carrying a 100kg load. It reaches a top speed of 30 km/h (18.6 mph). The motor is protected by a cover to ensure safety. It's optimized to be the best compromise between portability, weight and speed.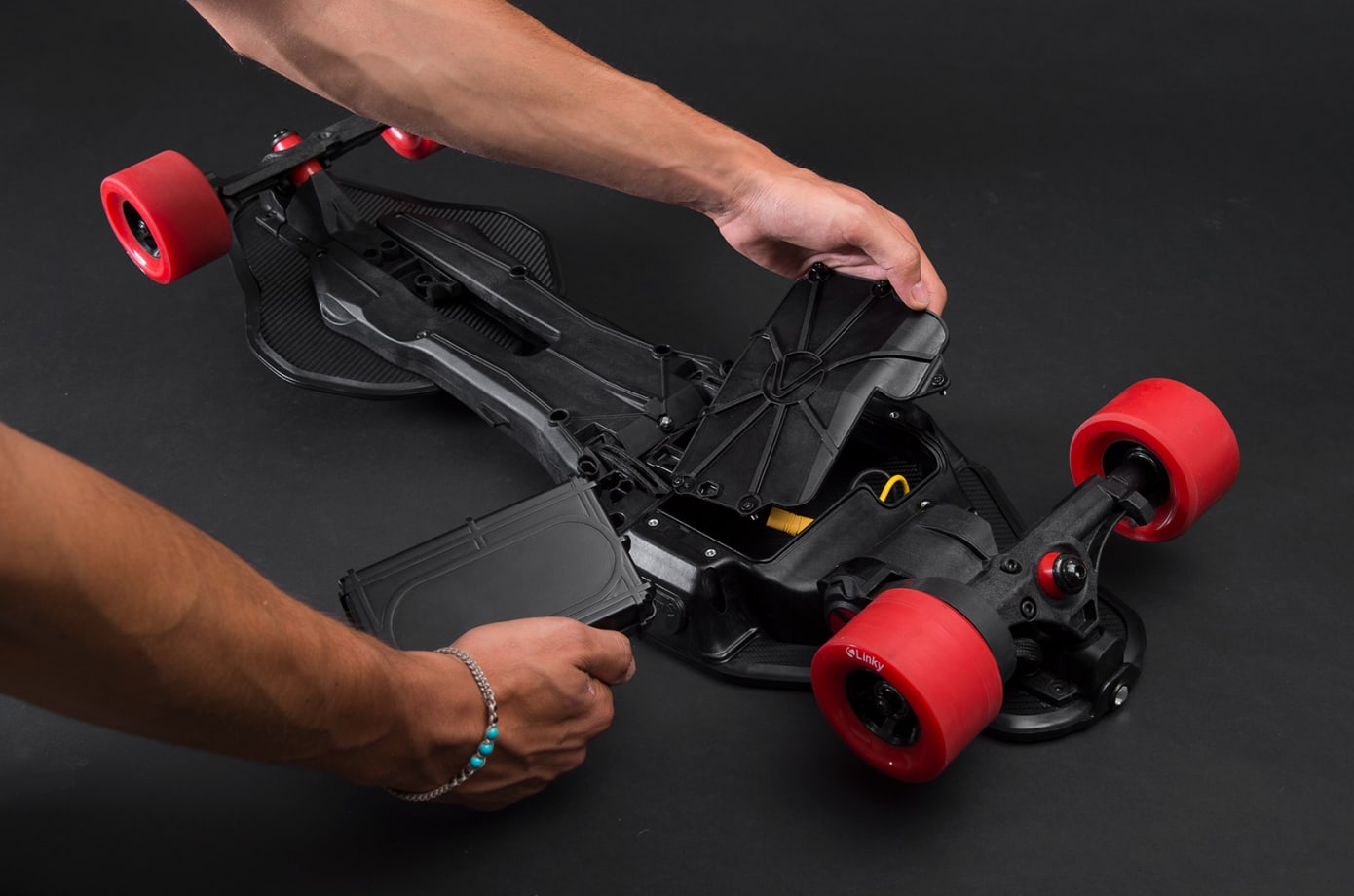 To maximize the riding experience yet keep Linky light, we've carefully studied the board's materials: rigid enough to give Linky sporty cornering abilities during high speed cruising but flexible enough for wide curves. We also chose our wheel size based on research that has shown large 83mm wheels to be ideal for comfortable longboard riding on difficult surfaces.
Fast Charge
Its innovative electrics and long life lithium battery come from our experience as automotive industry engineers. Linky charges to 85% of capacity in just 30 minutes and has a range of 12 miles using the Fast Charger (available as an add-on).
Safety & Air transport
Our power system has a BMS (Battery Management Solution) that regulates the battery pack charge and discharge, which ensures both good battery life and total safety.
Tech. specs
Range: 12 miles under urban riding conditions

Uphill Climbing: 12% (170lbs of load)

Max load 220 lbs

Top speed - 19mph

4 Riding modes - Eco, Cruise, Sport, Safety

Battery - Li-Ion18650 cells, 125 wH

BMS - Integrated in the battery box

Safety - intelligent power management to keep battery and motor in their safety operating area
In the box you will find:
1 pc of Linky Bamboo deck with red wheels

2pcs of red wheels [replacement parts]

1pc of belt [replacement part]

1pc of standard charger

1pc of remote controller

1 pc of tooling for maintenance (screwdriver etc)

Carrying backpack
30 Days Money Back Guarantee. One Year Warranty