Regular price
Oco2 Simple Security Camera
---
Regular price
Oco2 Simple Security Camera
---
Next generation FullHD camera for home & business security. No false notifications. No monthly fees.
Micro SD card & cloud storage
Oco2 offers local and cloud storage to ensure video capture even If your Wi-Fi is temporarily down

Crisp full HD
Oco2 is based on the newest Chipset that allows full HD live video and 140 degree wide-angle view

Smart motion and sound detection
Self-learning motion and sound detection system learns every hour you use it to avoid false notifications

Two-way talk
Communicate with those in your home. Keep your pets out of trouble and stay reassured your kids or elders are doing well

Setup in less than a minute
Oco is true plug-and-play! unbox Oco and plug it in, download the app, scan the qr code in the app and you are ready to go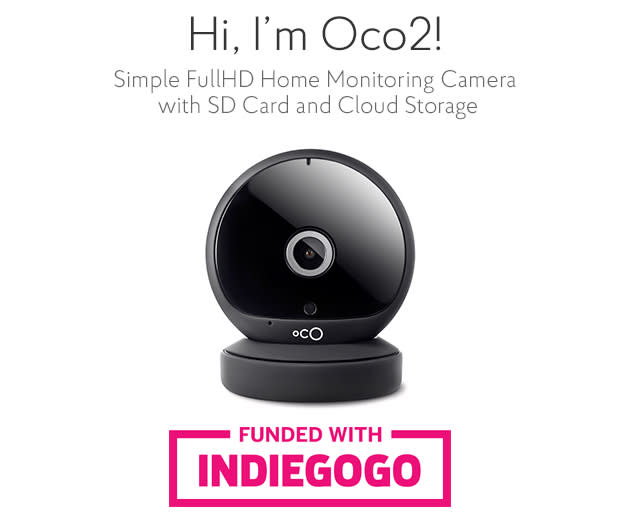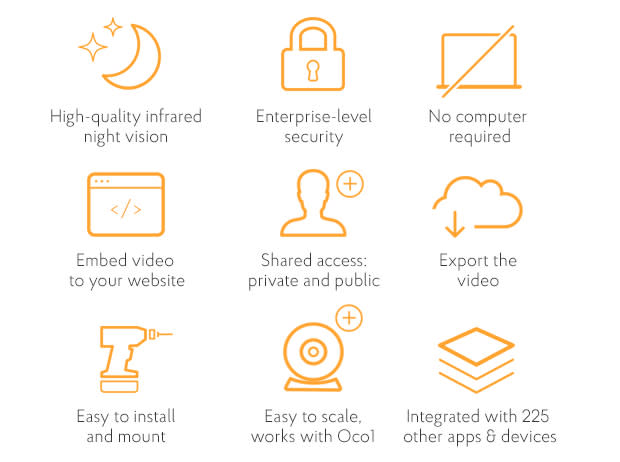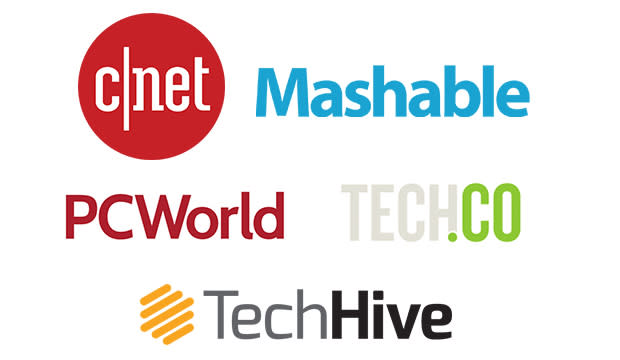 Meet Oco2 - next generation Full HD Home Monitoring Camera with SD Card and Cloud Storage
Monitor everything you care about: your home, children, pets, elderly parents, business, etc. Setup Oco2 in less than 60 seconds and access Full HD video remotely with our App. No Monthly Fees required
To activate all camera features including motion and sound detection, two-way talk and night vision. Use both Cloud and local SD Card storage and never worry about your internet connection going down.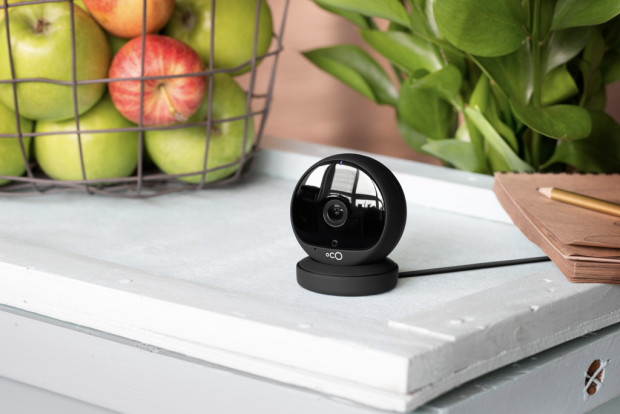 Leave Oco to watch over your apartment while you are on vacations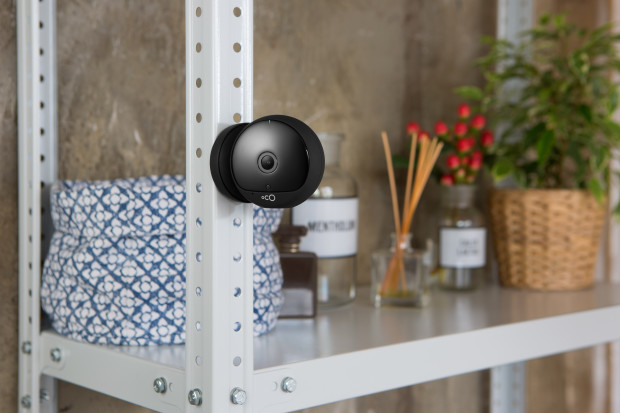 Use a tripod to mount Oco on the crib and use it as a baby monitor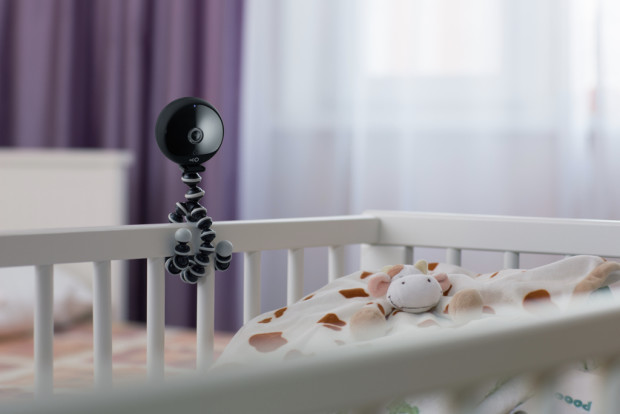 Easy to mount
You can mount Oco2 on any metal surface using it magnetic base or hanf it on the wall using screws or double-sided bounding tape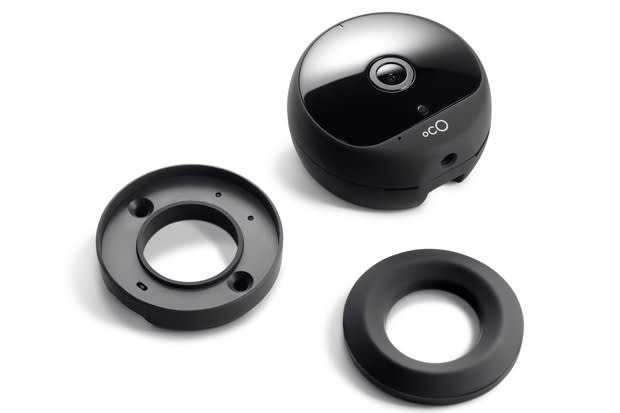 Set up in less than a minute
Simplicity is at the core of our band. Get Oco2 up and running in just 3 easy steps:
plug Oco2 into power socket
download Oco App
scan the QR code and you are ready to go

Crisp FullHD
Our newest camera allows you to stream live 1080p. FullHD video without overloading your Internet bandwidth.
With 140 wide-angle view and amazing new night vision you can see everything from anywhere in the world.
No monthly fee required
Some companies charge for key camera features like self-learning motion detection or basic cloud storage. To be aware costs $100 a year?
We feel your pain. Oco2 comes with a whole bunch of free features.
Live streaming
10s videos in the cloud
Notification scheduling
Motion and sound detection
Two-way talk
Motion and sound detection
Oco 2 can alert you with variety of notifications if it senses something happening that you have chosen to be informed about, such as any motion or sound that's detected.
You get a push notification or an email if Oco2 senses anything suspicious.
Detection area
Now you know who took that cookie
Choose a specific area you want to track of even more accurate motion detection. Adjust sensor sensitivity and receive only smart alerts
Two-way talk
Communicate with those in your home. Keep your pets out of trouble and stay reassured your kids or elders are doing well.
"Hey Tiger, don't sleep on my couch!"
Multi-User Access
Share the camera in two clicks.
Grant access to Oco2 camera to your family ot employees.
Easy to integrate
Connect Oco2 to more that 255 different apps and devices in just a few clicks. Make your home really smart with Oco2 and IFTTT
Features:
Micro SD Card & Cloud Storage: Oco2 offers Micro SD Card & Cloud Storage to ensure video capture even if your Wi-Fi is down

Crisp FullHD: Oco2 is based on the newest chipset that allows FullHD live video and 140 degree wide-angle view

Smart Motion & Sound Detection: Self-learning motion & sound detection system learns every hour you use it to avoid false notifications

No Monthly Fees: You don't need to pay monthly fees to access all camera features

Two-Way Talk: Communicate with those in your home. Keep your pets out of trouble and stay reassured your kids or elders are doing well.

Setup in less than a minute: Oco is true plug-and-play! Unbox Oco, get our App, scan the QR code and you are ready to go!
F.A.Q.
Q. How many Oco2 cameras should I get for my home?
A. The super-wide 140-degree view angle allows you to use only one Oco2 camera in a room to view it entirely, so you can consider buying 2 or 3 cameras for your home. The 2-pack and 3-pack have the biggest discounts.

Q. Can I have additional cameras in different locations (i.e. home and office) and access them all from my app?
A. Sure, with the free plan you can have up to 15 Oco2 cameras on one account, and these cameras can be at different locations. With any extended plan, you have no limitation on the number of cameras that can be used in one account. You can move them any time and add as many cameras as you want. Oco2 makes it easy for homeowners and businesses to scale their security system instantly.
CAMERA SETUP

Q. How easy is it to set-up the Oco2 camera?
A. It usually takes 1–2 minutes to set up the Oco2 camera and no technical skills are required. Enter your Wi-Fi password into the app. You'll be provided with a QR code, which you then show to your Oco2 camera. That's it! Put the camera on any flat surface, adjust the camera tilt angle on magnetic stand, and enjoy

Q. Can I mount Oco2 camera on a wall or ceiling?
A. Yes, you can use the enclosed magnet stand as a wall mount. Use the enclosed screws and dowels or double-sided tape to mount the magnet stand to the wall or ceiling. Then just attach the camera to the magnet stand and adjust the tilt angle.

Q. Screw thread for tripod? What the…?
A. Sometimes you don't have a shelf or a wall in the place you'd like to mount your camera. Oco2 has a standard 1/4'' screw thread that you can usually find in any photo camera. Using this screw thread, you can attach any tripod, including the flexible Gorillapod, which you can mount almost anywhere. 
HOW IT WORKS, FEATURES, APPS
Q. Can I use Oco2 with Oco (gen.1) cameras?
A. Sure, Oco and Oco2 are compatible and you can use both Oco and Oco2 from the same account and using the same apps.

Q. Is Oco2 battery operated? How is the device powered? Is it 100% wireless?
A. Oco2 is plugged in to the power outlet by an enclosed power adaptor and a USB-to-microUSB cable. We don't have a battery inside the camera; however our system can detect a lost connection to either power or WiFi. In that case, you will receive a mobile alert telling you that the Oco2 has lost its connection.

Q. Does Oco2 Move (Pan / Tilt)?
A. No, it doesn't, but the 140-degree wide angle is enough to view the entire room, so you just don't need to pan and tilt!

Q. Does Oco2 have a zoom?
A. Yes, Oco2 has 8x digital zoom.

Q. Can I use Oco2 outdoors?
A. You can use Oco outdoors. However, the camera is not waterproof and is designed to be an indoor camera. So, if you can mount it under a tent, so it's hidden from the rain, then there will be no problem. The operating temperature for the camera is 14ºF–122ºF / -10°C–+50°C. The operating humidity is ~ 15–85%.

Q. Can I turn it off (privacy mode)?
A. Yes, you can turn it off. You can do it via the app or camera can be turned off automatically when you come home (using geofencing via IFTTT).

Q. What happens if the power goes out? What if someone steals or smashes my Oco2?
A. In case Oco2 loses connection to either power, you will receive a mobile alert telling you that Oco2 has lost its connection. You will be able to then see footage leading up to that incident.

Q. What happens if the Wi-Fi goes out?
A. Oco2 has SD-card support for local storage. If you have a SD card inserted, the camera records to the SD card when the Wi-Fi goes out, and you can access this footage from your phone as soon as the camera connects to the Cloud again.

Q. Can I use multiple phones with my Oco2?
A. You can use as many phones as you wish with the same account. You can also share your camera access with other users.

Q. Can I share my camera access with my family members?
A. Yes, using the app or web-account you can share the camera access with your family members, friends, or colleagues. The number depends on the price plan. On the free price plan, you can share the camera with 4 other users.

Q. How does Oco2 work? How does it communicate with my mobile device?
A. Once you have set up your Oco2 smart camera, you can begin to monitor your home. You can watch a live stream any time via your Web Browser, iOS, Android mobile apps, or Mac OS, Windows, and Linux apps. Once the camera detects a motion or sound, it compresses and encrypts the video and sends a notification to the App or user's email and records either the first 10 seconds of the event or the whole event (if the user is subscribed to one of the cloud recording plans). Because Oco uses self-learning algorithms, it gets smarter every day and learns to avoid false triggers such as tree movement in the window, etc. The video is stored in the cloud for 24 hours (can be extended up to 30 days with paid plans).

Q. Will Oco2 work with Android, Blackberry, Windows? When will my platform be supported? What smartphones does Oco2 work with?
A. You can have access to your camera via web account, apps for iOS, Android, Mac OS, Windows, and Linux. Oco2 works with any iPhone, iPad и iPod touch with iOS 7 or later and Android devices with Android 4.1 or later.

Q. How fast should my Internet be?
A. Oco2 Camera requires a broadband Internet connection with an average bandwidth of 0.5–1.0 Mbit/s. The camera can adapt its video quality to fit the currently available bandwidth.

Q. Can I make my camera public and embed live feed from it on my website or blog?
A. Yes, you can. We provide you a simple code and you can embed it to any website and make you camera public.

Q. How much does the app cost? Are there in-app purchases?
A. All apps are free and don't have any in-app purchases besides extended cloud price plans.
MICRO SD CARD, NOTIFICATIONS, RECORDINGS
Q. What are the subscription costs of Oco2?
A. Every Oco2 comes with free motion and sound alerts and 10-second clips of events for the past 24 hours, which is enough for most home use-cases. You can understand what was going on when camera detected the motion or sound. Optional subscription plans are available for extended cloud video storage and additional sharing options that range from $5 a month (or $50 a year) for 1 day cloud storage of extended video to $19 a month (or $199 a year) for 30 days.

Oco 2 has a hybrid storage option, so you can avoid storage fees by using the SD card.

Q. How do I access video that has been captured?
A. Oco2 smart camera uses Ivideon Cloud Service for the video and has mobile alerts and push notifications so you can see what is happening at home instantly. You can access a live stream or footage from your laptop, smartphone, or tablet from anywhere, at anytime. 

Q. Is there a Timeline feature? Can I see what has happened in the past?
A. With extended plans enabled, you can view Timeline for all camera motion- and sound-triggered recordings in the past. You can scroll back in time and view a video stream from a particular moment.

Q. How do the Smart notifications work? What type of notifications could I have?
A. When the camera detects a motion or sound, it sends an email and/or alert to your phone (depending on your settings).

Q. How Oco2 camera works with SD card?
A. Our cameras give you the flexibility to choose whether you want to store data on our servers, or you want to store data locally. With Oco2, you can use a SD card as a free local storage. It can be an addition to Cloud Storage or your single video storage location. 

If you inserted a SD card into Oco2 and you have a free cloud plan, you can use the SD card as a free storage. To store a video archive on an SD card, we recommend you to use microSD up to 128 GB with speed class 6 or higher. You can access your footage from anywhere using apps.

If you have an extended plan and the camera records into the Cloud, it uses the SD card as a backup storage and records to the SD card only when Wi-Fi goes out. In this case, you can access your footage from anywhere using apps as soon as camera is online again.

Q. Can I adjust motion and sound detection sensitivity settings?
A. Yes, you can turn on/off motion and sound detection sensors and adjust its sensitivity

Q. How does Self-Learning algorithm exactly work?
A. Our self-learning algorithm makes Oco2 smarter by the hour as you use it. All videos are first analyzed by the camera and then sent to the Cloud. That's where the magic happens. The Cloud learns to avoid movements that are frequently repeated (such as shadows, cars passing by, etc.) so you are not inundated with endless false notifications.

Q. Does Oco2 camera work when there is no movement?
A. Oco2 is runs constantly. You can watch the live streaming video from your app at any time you want it. But the video is not saved to the Cloud when there is no motion or sound detected.

Q. Can I schedule notifications? Turn off notifications? 
A. Yes, you have these settings!

Q. How can I save/export video from Oco2 to my device/computer?
A. Export is a free feature and only the length of one clip is limited by your price plan. Export is available from your web-account. For free price plan you can export from your camera's SD card an unlimited number of clips (each up to 1 hour long) to your PC or Mac.

Q. Do I need to use your Cloud? Can I run my own storage server/FTP server/backend?
A. Our Cloud is required to take advantage of our self-learning system and advanced algorithms; the camera's data needs to be analyzed on our cloud system. Oco2 can store your footage in the SD card as a local storage as well. A separate FTP/Backend is not supported by Oco2 as the data needs to be analyzed in our Cloud for the learning capabilities to work.
TECHNICAL DETAILS AND SECURITY
Q. Which Wi-Fi networks is Oco2 compatible with?
A. The Oco2 camera is compatible with 2.4GHz and 5GHz 802.11 a/b/g/n networks

Q. How secure is it? How secure is my footage?
A. Our servers are certified for security with the following standards: ISO 27001, PCI DSS, and SOC 1. For encryption, we use AES-256 key (means Advanced Encryption Standard 256 bits key approved by the NSA for protecting "SECRET" and "TOP SECRET" classified US-government information. However, like with any online service, we encourage users to use strong passwords and take measures to keep private information safe.

All video content stored on the SD card of Oco2 is private and inaccessible unless you have it set up to link to the Cloud.

Q. How does Oco ensure privacy of the video that is captured? What if the video gets in the wrong hands? If your phone gets in the wrong hands, will others be able to access your video? 
A. All video content is compressed and encrypted, and users own their content. If the phone or any other device is taken by someone, you should use your device's security measures to disable it (like Find My iPhone feature by Apple where you can turn it remotely off). In addition, you can login via any browser and change the password to the account to prevent access through the app.

Q. Will there be the ability to do firmware updates to the Oco2 camera?
A. Yes! We have OTA (Over-The-Air) upgrade capabilities in the camera, which will allow you to update your product, making it even better every time we deliver you new firmware update.

Q. Why did you choose Ivideon as your service provider?
A. Ivideon is the most highly rated video surveillance software with over 1 million users across iOS and Android. Ivideon will also be available for Windows in January. With 4.5 stars at the Apple store and 4.5 at Google Play, Ivideon has the highest rated App on the market.
INTEGRATIONS, GEOFENCING
Q. Does it work with… (my thermostat, connected lock, camera, etc.)?
A. With simple IFTTT (https://ifttt.com/oco_camera) integration, Oco2 can be connected in two clicks to a variety of Smart Home Devices. For example, you can make you smart Light Bulb blink red when Oco2 tracks motion, or your smart thermostat can automatically turn Oco2 on when you are leaving the house.

Q. How can I use geofencing? Can I turn off the camera when I'm home and turn it on when I'm away? 
A. Yes, you can use ready IFTTT recipes for iOS and Android devices to turn off the camera (or just notifications) when you come home and turn the camera (or notifications) on when you leave it.
OTHER QUESTIONS
Q. What about a warranty?
A. We provide a 1-year limited warranty for our Oco2 Camera. If something goes wrong, just send us a support request and we'll fix it.
Shipping Details
Delivery is performed by USPS and FedEx in the US and by local carriers for the rest of the countries. US shipping is free, rest of the world is $50. The shipment does not include extra fees from customs or additional costs associated with your country. If it turns out that shipment to your country proves impossible, we will reimburse your order.
30 Days Money Back Guarantee. One Year Warranty