Regular price
TimeFlip Simple Time & Productivity Tracking
---
Regular price
TimeFlip Simple Time & Productivity Tracking
---
Hack your time! App for iOS and Android.
Simple TIME TRACKING device that analyses your productivity patterns

MOBILE APPs available on Google Play and App Store

GREAT BUSINESS GIFT for freelancers, software engineers, consultants, lawyers or business executives

ASSIGN YOUR TASKS to the sides. Place TimeFlip so that your task faces up. Time tracking starts automatically
We all want to be productive and successful. But how to make the most of our time?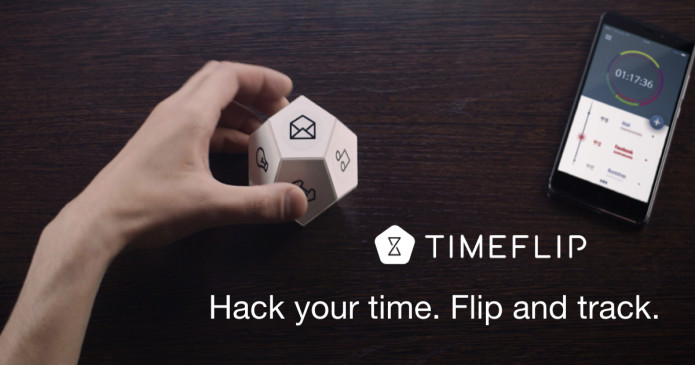 By creating TimeFlip, we finally turned time tracking into something easy and playful. This smart gadget will save you lots of time for more important or pleasant tasks.
Easy peasy
Open the App - Assign Test - Start Flipping
Customizable
Draw, Paint or Label your TimeFlip
Integrating
Your popular time tracking software is even better with TimeFlip
How it works
Assign your tasks to the sides
Place TimeFlip so that your task faces up. Time tracking starts automatically
Once you finish, simply flip the gadget to move onto the next one
All time statistics is automatically captured by our mobile app and stored in the cloud. Access your statistics through app or web interface to obtain full graphical analysis on your time usage last day, week, month or year.
Who needs TimeFlip? 
Everyone, who seek to take control of their time and boost productivity. From freelancers to software engineers, from consultants to lawyers or business executives. Unlike pure software tools, TimeFlip does not distract you while filling your timesheets. You will never lose focus working on something important. 

For startup founders and business owners, we offer a simple and efficient tool to analyze productivity in teams, optimize workflow and communication with clients.
Press about us
"Become more productive with the help of this app-connected dodecahedron"
"A time-tracking gadget simple enough that I might actually use"
"A simple time tracker to help boost your productivity"
What's inside
Includes TimeFlip sensor, mobile app and a foldable plastic case with magnetic anchoring. Currently available in dodecahedron-shaped casing (12 edges). Up to 20% volume discount available for orders of 3, 5 or 10 units and more.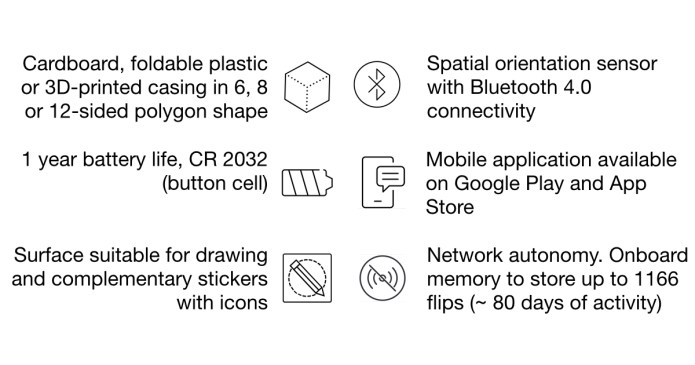 F.A.Q.
So where is the problem?
Most humans can't estimate time accurate enough. Time spent on plausible/interesting tasks feels to run faster. Automatization of time measurement is essential. Real-time tracking is the key. Software tools provide for poor UX. Software-assisted tracking didn't get far from paper time sheets. It still consumes time and requires attention.
How do I write tasks on the sides of TimeFlip?
It's very simple - use any non-permanent marker and write directly on the sides of TimeFlip body or on the special stickers that included in Craft and DIY sets.
How do I connect tasks to mobile application?
Open the TimeFlip application, in drop-down menu, select the task or create a new one.
Where do I find the application and how do I know if it supports my smartphone?
TimeFlip is compatible with Android and iOS. You can find the app in the AppStore or Google Play using "TimeFlip" in search line.
How long does TimeFlip run on one battery?
Not less than a year. 
30 Days Money Back Guarantee. One Year Warranty