Regular price
Sale price
$99.00
Yukuma Power Bank World's Fastest Recharge
---
Regular price
Sale price
$99.00
Yukuma Power Bank World's Fastest Recharge
---
30 minutes for the power bank recharge. Fancy and compact design.
Fastest recharge in the world
Most Power Banks Take 10-15 hours to recharge. Top selling ones on Amazon are "proud" that theirs can recharge in "as fast as 6 hours." Our powerbanks charging block takes ONLY 30 MINUTES to recharge! Its 10 times faster than the competition! This makes it the perfect gift for men who have everything!
Simultaneous charging
Two USB ports allow you to charge your phone at the same time as your tablet, digital camera, GPS device, portable gaming system, Bluetooth speaker, mp3 player, iPad, and more. Or use the extra port as a nice way to meet people, by becoming their savior from a dead battery! Just make sure to invite us to the wedding.
Travelers best friend
Whether you are an adventure traveler, love to go camping, go on airplanes without charging ports, or are just away from an outlet a lot, you no longer have to stress about your battery running out. This charger will recharge your phone up to 3 times or more and charges your devices faster than an outlet anyway.
Festival and concert ready
Whether you're at EDC, Ultra, Tomorrowland, Coachella, or any other EDM or other festivals, you know your phone battery dies quickly due to the big crowd. Just slip your Yukuma powerbank in your hydration backpack or fanny pack and dance until your legs fall off with the peace of mind you'll have a fully charged phone when its time to call the Uber for a ride home.
Size matters
Only 160 mm tall, and weighs only 270 grams, this battery charger will fit in your pocket, purse, backpack, fannypack, travel bag, carryon, and more. Free yourself from the wall outlet already and get the most innovative and advanced power bank on the market!
All powerbanks are not created equal
Most powerbanks you have to spend more than half of the day recharging. The ones that claim to be a quick or fast recharger, still take 4-6 hours to go from drained to fully charged.
Not Yukuma
Patented technology allows power bank to fully charge in ONLY THIRTY MINUTES! We dare you to find one of the big external battery companies on who has anything close to this. LED light status will show you how much charge the battery has left so you do not have to guess.
Most Power Banks Take 10-15 hours to recharge. Top selling ones in Amazon are "proud" that their can recharge in "as fast as 6 hours".
Yukuma needs ONLY 30 MINUTES to recharge! It's 10 times faster than the competition! This makes it the perfect gift for men who have everything! 
Patented fast charging system. circuit and plug
Fully charged within 30 minutes and 50% within 15 minutes
German engineering and quality
Patented super fast charging system
Simultaneously charging itself and connected devices
Smart battery management system, best charging profile upon device recognition
"By far this is the bests perfoming portable charger."
Michael Flore
Verified Customer
"This is a must-have item ever. I can charge my phone and iPad at the same time."
Jac
Verified Customer
"Recharges at lightning speeds."
Yingtong L.
Verified Customer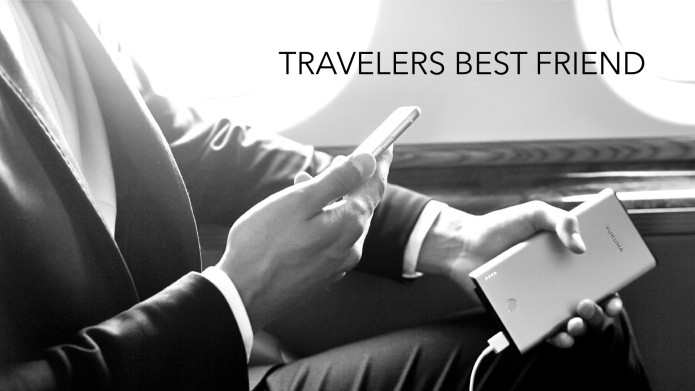 Features

9 protections levels for safety
Smart system of fast charging identification
Electrostatic protection
Short circuit protection
Temperature deviation protection
Software malfunction and hardware short protection
Input overcurrent and overcharge protection
Output overcurrent protection
Dual output overvoltage protection
Battery overdischarge protection.
Specs
Full recharge time: 30 mins
2 USB ports for charging 2 devices
Simultaneously charging YUKUMA and 2 devices
High-quality metal case
Power Bank
Capacity: 3.7V/10000mAh; 37W/h
Input: 13.2V; 5.6A
Output: 5V/2A; 9V/1.66A
Innovative charger for Yukuma
Input: 100V-240VAC; 50/60Hz; 2A MAX
Output: 13.2V/5.6A
In the box: Power bank, Charger, Cable
FAQ
Where is this charger made?
Yukuma is designed in Germany and UK, assembled in China.
How do I turn-on 9V 1.66A feature?
You have to charge it first, then press the button while your phone is plugged into the Portable Charger.
Does it work with my iPhone or Tablet?
Yukuma can charge any device that has USB power cable.
Can I take it on board of the plane?
10.000mAh power banks are allowed on board of the airplane, however, please check up with your airline as the rules might vary from one country to another.
Do you ship worldwide?
Yes, we deliver Yukuma worldwide.
30 Days Money Back Guarantee. One Year Warranty.